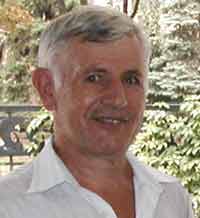 Head of Lab.
Dr. of Sc. (Biology)
MOSKUL GEORGII A.
IT DEVELOPS :
- total allowable catch (TAC) prognosis for rivers, water reservoirs and lakes of the North Caucasus as well as marketable fish production at the plants of the North-Caucasus and the Central-Chernozem Zones of the RF;
- fish-farming and biological grounds (FBG) for fish husbandry development and for increase of fish yielding of multi-purpose water reservoirs (reservoirs, lakes, water reservoirs manmade on the steppe(small)rivers, estuaries, rivers etc.), for setting up commercial farms based on the natural ponds and water storage reservoirs;
- biological grounds for Kuban river long-clawed crayfish cultivation in natural and man-made water reservoirs.
IT FULFILS:
- - estimation of damage inflicted on fish stock by building of water-engineering systems, laying down gas- and oil-pipe-lines, building and repairing of bridges and other jobs being done on the reservoirs.