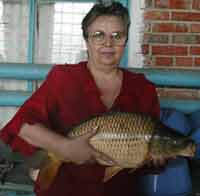 Head of Lab.,
Ph D (Agriculture),
SERGIANT L.
IT CARRIES OUT out research in yielding qualities of pond fish breeders; combining ability of breeds in crossing. The genetic diversity level of all fish-farming objects is estimated using biochemical genetics methods. The breed standard conformity analysis basing on morphotype and genetic markers is also available.
IT ADVISES on the questions of selective-breed work and carp and herbivorous fish reproduction.
IT RENDERS services in purchasing of imported carp breeding stock, forming of replacement stock, crossbreeding.
IT RENDERS assistance in drawing up the documents for obtaining RF patent for a selection achievement and fish farms conversion into the status of breeding enterprises.
THE FOLLOWING RECOMMENDATIONS HAVE BEEN DEVELOPED:
- Imported carp breeds use under the Krasnodar Territory conditions
- Formation of replacement stock of imported breed groups
- The preparation "Nerestin" application and the herbivorous fish spawning basin use.